PRESS RELEASE 
FIRST HISTORIC HINDU MANDIR EXECUTIVES CONFERENCE (HMEC) IN THE UK
Vishwa Hindu Parishad UK (VHP) successfully organised the first all UK Hindu Mandir Executives Conference on Sunday 4th Oct 2020. Out of around 250 mandirs (temples) in UK, over 200 senior executives and representatives of 135 mandirs from 94 towns participated in a 3-hour online conference. Delegates came from well established large mandirs as well as new and small mandirs scattered across the country right from Aberdeen, Belfast in the north to Cardiff (west), Hull (east) to Southampton (south). They represented different sampradayas (sects), linguistic groups and countries. The conference was supported by major national Hindu bodies like Hindu Forum of Britain (HFB), Hindu Council (HCUK), National Council of Hindu Temples (NCHT) and National Hindu Students Forum (NHSF).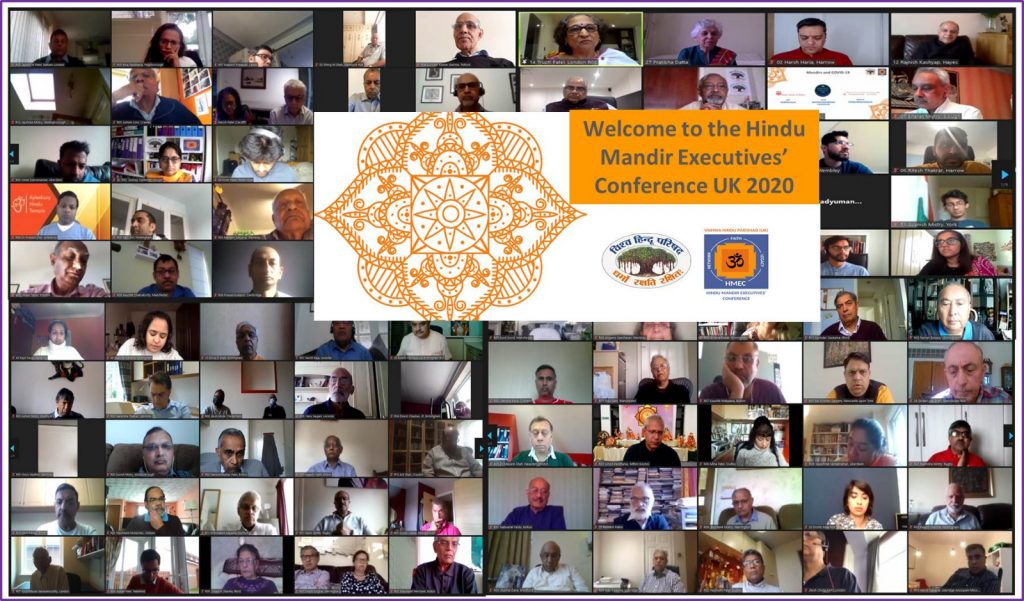 The conference commenced with auspicious Deep Prajjwalan (lighting of diya) live from Balaji Mandir (Birmingham), BAPS Swaminarayan Mandir (Neasden) and Bhaktivedanta Manor (Watford) accompanied by chanting of mantras by Shri Krishan Kant Atri (Newcastle upon Tyne) who is the Hindu Chaplain with British Armed Forces.
Welcoming the delegates, Dr Tribhovan Jotangia, President of VHP UK said, "Hindu mandirs are the heart of Hindu community. They play an essential role in the spiritual, cultural and social welfare of the community. The objective of HMEC UK was to explore ways to make mandirs more effective and vibrant in meeting the ever changing needs of UK's diverse Hindu samaj."
The keynote address was delivered by Dr Ram Vaidya, international coordinator of HSS activities, who described the concept and role of mandir since ancient times and why it was the pillar of the community life. He broadly explained the purpose of a mandir under three headings: shiksha (education), sanskar (life values) and suraksha (security). This was followed by panel discussion on the impact of Covid 19 pandemic on mandirs and various government guidelines. Heads of HFB, HCUK and NCHT explained the current situation and answered questions from delegates.
The major part of the conference was devoted to workshops of small groups of 15-20 delegates. There were six topics of the workshops:
Mandir and Governance
Mandir and External Representation and Engagement
Mandir and Youth
Mandir and Promotion of Hindu Dharma
Mandir and School Visits
Mandir and Sewa Activities
Each delegate had opportunity to participate in two workshops which were facilitated by competent persons. Workshops provided excellent opportunities for delegates to share information, experiences, innovative ideas and challenges faced.
After the reporting of each workshops to the whole conference, Shri Dhiraj Shah, Sanghachalak (President) of HSS UK, gave an inspiring concluding address, summarising the essential takeaway messages. He congratulated VHP UK for organising such a successful conference which was professionally planned and executed without any hitches or flaws. Quoting the ancient saying "Sanghe shakti kaloyuge", he said that in the present world it is the collective efforts which are successful for the community.
The conference concluded with Vote of Thanks and Shanti Mantra by Prof Nawal Kant Prinja, VHP Director of Education and Editor of book "Explaining Hindu Dharma – Guide for Teachers".
The delegates left the 3 hour conference with lots of information and ideas to improve their mandirs for the future, leaving many positive feedback messages.
Some comments from delegates…
Rajnish Kashyap, Secretary of HCUK:
"Congratulations to VHP for holding this important meeting and bringing majority of the temples in UK together on one platform. It was much needed and was very well attended. The workshops were practical. Discussion was very informative and valuable. I really enjoyed the small group dynamics – especially as they were all lovely people, eager to seek information and also share knowledge. Lots of important issues were discussed. Now it is up to all of us to find a way to implement them."
Visakha Dasi, President of Bhaktivedanta Manor, Watford:
"Many thanks for creating the conference. I am grateful for opportunity to meet other temple leaders in the UK and to learn from them about wide range of relevant topics. I found the conference well organised and interesting. The three hours went quickly. Hare Krishna."
Dr Mayank R Shah, Chairman Trustee, BAPS Swaminarayan Mandir:
"Thank you for organising a very informative and relevant conference. It was good to witness such a huge participation"
Dr Kanagaratnam, President, Balaji Temple, Birmingham:
"Hats off to whoever thought of this conference, wonderfully executed with precision timing where you brought together big organisations on one platform HFB, HCUK, NCHT etc."
Photos of Conference.
HMEC UK 2020 – Conference Proceedings now available to download
Following the momentous inaugural Hindu Mandir Executives' Conference UK on 4th October 2020, the Conference Proceedings booklet is now available to download.
The booklet will be useful for you and our mandirs especially if you share it with other executives of the mandir to help make mandir the heart of the Hindu society.
Download the Conference Proceedings 
If you have any questions or suggestions please contact us by email  info.hmecuk@gmail.com.